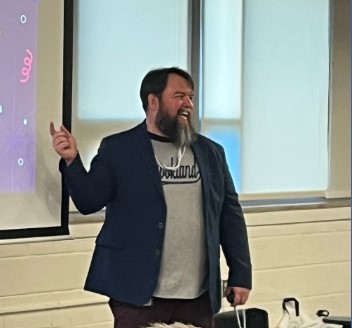 Principal's Message 23-24
Our Mission Statement says, "We challenge ourselves to be better than we think we can be and to advocate for the greater good of our culturally diverse community." It is this aspiration to be better than we think we can be that drives us to reach new heights with our students despite the challenges that we are facing as we bounce back from the interruptions of last year. We are pulling together to make Brookland a community of powerful learning no matter where we are academically. Brookland's exceptional teachers and support staff are devoted to guiding our Cubs through this reinvigorated learning experience.
I became a Brookland Cub for the first time as a student in 1989 and I am so excited to be entering a decade of being the principal. Much has changed at BMS in those years but what has not changed is how deep the roots of Brookland run. One of my favorite parts about Brookland is that it is a community school where we have generations of Cubs sharing an experience with those that are new. This combination of connections to the past and greeting the future makes Brookland a special place to grow.
We will achieve our goals by establishing meaningful relationships and providing opportunities for everyone to go above and beyond the call of duty. This ambition to strive for greatness will be the hallmark of our growth at Brookland. Our theme for this school year is "One Team! One ROAR!" This community-created phrase perfectly describes the fact that we will both team together as we are creating one team of our diverse student body and they will actively participate in meeting our common expectations. Not only are we asking that everyone work together for our common vision but we are asking that everyone push ourselves to be their best every day. If we do this, there is no limit to what we can accomplish in our efforts to cultivate lifelong learners and global citizens.
If you want to join the team as we ROAR, please connect to our social media links, website, ParentSquare, Schoology, and our Parent Portal in PowerSchool to work together to make Brookland a place of powerful learning.
Go Cubs!
Nicholas Barlett, Ed.D.
Principal, Brookland Middle School